NORTH CAROLINA BEER MONTH EVENTS
Here are some NC Beer month events you should join us for!
4/07 4pm Grounds Café Tap Feature
4/11 Bombers Wilm Tap Event
4/11 Briar Creek Beer Garden event
4/13 Lowes Knightdale
4/13 Lowes Briar Creek
4/19 MicroLot Coffee Lager release event @ BBB Taproom
4/19 Rib Eyes tap feature
4/25 Asheville Beer Dinner
4/26 Bottle Rev LBT tap feature
4/27 & 28 Brewgaloo
EACH THURSDAY – pilot system tribute to beers from Raleigh's past brewing history!
This page will be updated with more events: http://brewlog.bigbossbrewing.com/?page_id=101
RE-VISITING RALEIGH BEERS
BIG BOSS BREWING SALUTES BREWERS FROM RALEIGH'S PAST FOR NORTH CAROLINA BEER MONTH
Each Thursday in April Big Boss will feature a different recipe in tribute to past Raleigh brewery's. "We wanted showcase significant beers from Raleigh's past to remind our customers that this craft beer movement didn't start a few weeks ago. We are lucky to have a rich beer history here in Raleigh that now supports 26 breweries in Wake county alone" explains David Rogers, product manager for Big Boss Brewing. The series was brewed as part of Big Boss Brewing's New Beer Thursday tap series helmed by brewer Greg Winget.
TOMCAT LIONHEART SCOTTISH ALE APRIL 5th
Thom Tomlinson started Tomcat brewing in 1995 and one this brewery's flagship offerings was a this Scottish Ale. We brewed this one based on discovered brew sheets in the Big Boss archives.
OLD RALEIGH BREWING HONEY GINGER WHEAT APRIL 12th
Old Raleigh Brewing stood not far from where Big Boss Brewing is today. Founded in 1994 the team there brewed and bottled a variety of beers and distributed locally. With nothing else to go on other than the bottle in our archives, our pilot brew specialist Greg Winget created this one in tribute to the name of the beer itself: Honey! Ginger! Wheat!
EDENTON BIG BOSS IPA IPA APRIL 19th
First brewed for Edenton Brewing, Big Boss IPA features classic Chinook and Cascade hops for a balanced "east coast" style India Pale Ale. Now you know where the brewery got it's name!
BIG BOSS MONKEY BIZZ-NESS APRIL 26th
This one might be cheating a little bit since it has the Big Boss name and it has been in production here, however we have not had time to make Monkey Bizz-Ness in recent years. This a recipes that was created to celebrate the "Pop-The- Cap" law where the limit on beer alcohol percentages could exceed 6 percent for the first time! A Saison in nature, this 9% spiced ale features black peppercorn and coriander is highlighted by fruity Earth-bound esters and presented in the farmhouse spirit.
BIG BOSS LAGER PHASE 2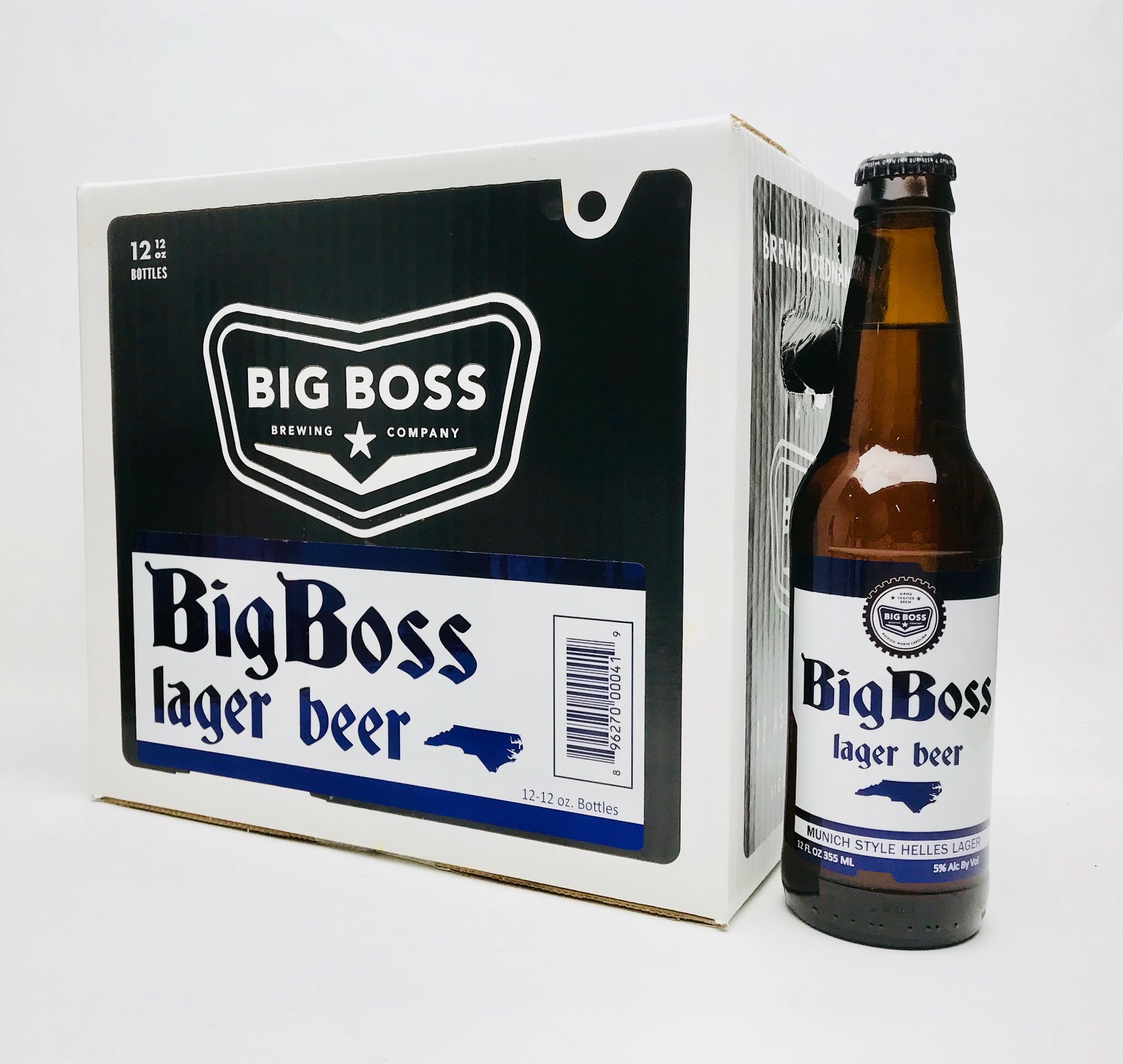 Phase II begins! Big Boss Lager is now available is this handy 12 pack! Look for it at retailers all over the Triangle starting this week!
HONDURAN COFFEE LAGER RELEASE APRIL 19
A German Style lager conditioned with Honduran Microlot grown beans farmed by master farmer Rodolfo Penalba. The team at Larry's met up with the team at Big Boss for a cupping of several blends and origins before testing each bean with beer back at the brewery. The final result is the complete opposite of our coffee stout, Aces and Ates! Light in color and even stronger in fruity, earthy, toast flavors! Join The big Boss and Larry's Beans Staff on April 19 at the Big Boss taproom!