WELCOME BACK TAVERN ALE! Big Boss Brewing introduces Tavern Ale as part of it's seasonal line up, an English / American hybrid, a historical recipe from Big Boss brewer & partner Brad Wynn.
The term "tavern ale" comes from old world customs. It is the beer made for or by the "tavern." An exclusive beer for fellow patrons. The Big Boss Tavern ale has been in regular rotation since Big Boss opened in 2007 and now makes its way to a permanent rotation in the seasonal line up of offerings after a larger scale test run in 2014.
This highly quaffable seasonal brew is a hybrid of American know how featuring classic English ingredients recognized by fans of traditional beer styles and worth of a dimple mug! A historical recipe from brewer Brad Wynn who has brewed the beer and received praise for it since 1995. What was once a Big Boss "tavern only" release for several years up until now! We couldn't of said it better than this write up:
The beer has an oaky color; a nutty barley-malt aroma; a firm beautifully balanced palate; and a long hoppy bitter finish. All About Beer Magazine
Big Boss Tavern Ale has been added to the brewery's line up of seasonal beers and will follow Harvest Time in the winter months. Tavern Ale is available in 6 pack, and keg and will be offered to distributors in North and South Carolina.
BEER OF THE MONTH AT TYLERS
Tyler's of Apex celebrating BOTM in style with multi tap Big Boss line up and glassware for their guests each week. Staff from Apex brewed a special beer to be tapped later this month.
SUNDAY RUN CLUB From our run club captain Jon: After another huge summer season, run club will again move to Sundays at 12pm for the winter. Join other runners and walkers for an out and back run on the Capital Area Greenway system. Attendance will continue to count towards rewards and raffle prizes. Look for special guest promotions and a food truck each week. Follow the run club on Facebook for all the details: https://www.facebook.com/groups/bigbossrunclub/
SUNDAY YOGA Changing Yoga class time from 11:30 to 11 to accommodate guests interested in run club and yoga. Classes are donation based, and please bring your own mat.
AIR SUPPORT IPA LAUNCH We will launch our collaboration beer with Trophy Brewing with music and beer at the brewery on November 21st starting at noon. We brewed this beer to bring some attantion to community supported Little Raleigh Radio. http://www.littleraleighradio.org/ More info TBA fiollow facebook and twitter for more updates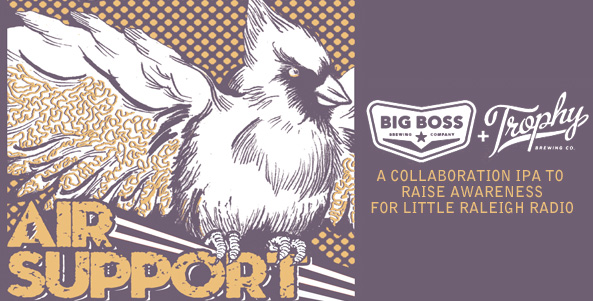 Tap Room beers: http://bigbossbrewing.com/tap-room.aspx
Need a keg: http://bigbossbrewing.com/distributor-info.aspx
Merch store: http://bigbossbrewing.bigcartel.com/
More Events! http://brewlog.bigbossbrewing.com/?page_id=101
Dave Rogers – Thank you for reading!
http://bigbossbrewing.com/